Yes.  It's that time of year where you begin thinking about what you other people might want for the holidays—a time of giving.  Let me help you with that. Here are some gift ideas ranging from the very reasonable to the bizarrely extravagant:
1. A Star Trek II TWOK replica phaser, $30
This toy should make any die-hard trek fan happy.  Comes with a removable type-1 phaser.  I can't wait to buy give this to someone for the holidays!
2. A Serenity Tote Bag, $10
This bag would make a nice gift for anyone who misses Firefly.  So simple, so inexpensive, so easy.  I miss Firefly.
3. BSG Senior Officer Pin Set , $29.99
Instead of telling someone how much you love them this holiday season, why not promote them?  Actions speak louder than words.
4. Stargate Atlantis Gate Necklace,  $715.50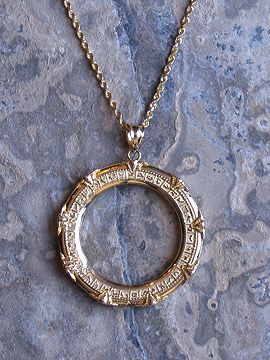 Now that's an odd price.  $715.50?  Is that how much it costs to open a tiny, stable wormhole to the Pegasus Galaxy?